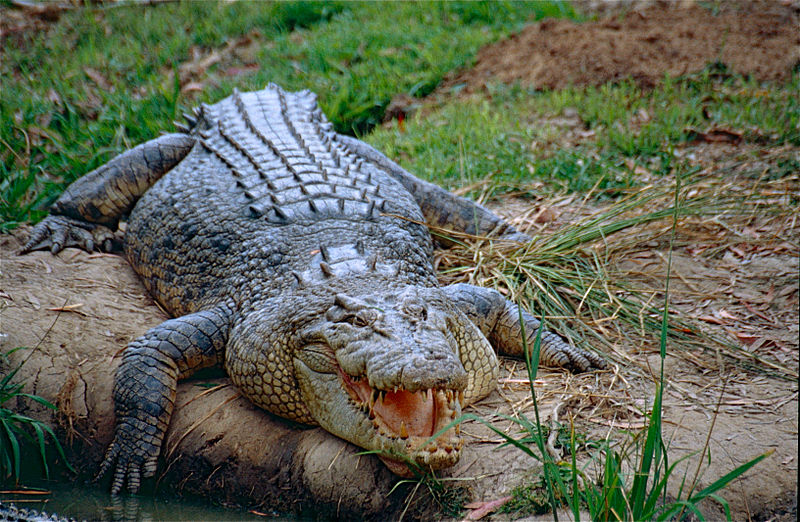 According to Chinese authorities, a total of 75 crocodiles, including 69 adults and six babies, have managed to escape from their breeding farm located in Maoming,
Guangdong province.
The daring escape occurred when their enclosure overflowed due to flooding triggered by Typhoon Haikui, which followed a severe rainstorm in the region over the past weekend.
Typhoon Haikui wreaked havoc across South Asia, affecting areas in China, Hong Kong, Taiwan, and Japan. While this extreme weather has since been downgraded to a tropical storm, it has already led to landslides and extensive flooding.
Despite a reduction in heavy rainfall in southern China and signs that the worst may be over, the presence of the escaped reptiles poses a new threat to the local residents.
Villagers residing nearby have received instructions to remain indoors, particularly avoiding rivers and lakes, as a majority of the crocodiles are still on the loose.
Chinese state media has reported that only eight crocodiles have been recaptured thus far. Some of them were successfully retrieved, while others had to be dealt with, either through shooting or electrocution, for safety concerns, as reported by the BBC.
The district emergency management bureau, as explained by the state-run newspaper Dazhong Daily, acknowledged that authorities are making efforts to manage the situation. However, the significant number of escaped crocodiles presents a notable challenge.
Fortunately, there have been no casualties, and emergency services are employing sonar equipment to track down the missing crocodiles.
Videos circulating on Chinese social media depict the crocodiles navigating through the floodwaters. Some videos even feature clear signs that read "To Maoming," according to NBC News reports.
Maoming, which has witnessed heavy rainfall over the past two weeks, has been profoundly affected by extreme weather conditions, resulting in considerable disruptions throughout southern China.
Several video clips display rescuers evacuating individuals to safety from the flooding. Other footage reportedly shows members of the emergency response team donning high-visibility vests while embarking on a mission to locate the reptiles.
Notably, crocodile meat is considered a delicacy in Maoming, and the Guangdong province hosts numerous large crocodile farms.
The escaped reptiles are identified as Siamese crocodiles, a species of freshwater crocodiles native to Asia. These creatures typically measure around three meters in length, categorizing them as medium-sized.
The Crocodiles of the World website highlights that Siamese crocodiles are critically endangered, with fewer than 1,000 mature adults estimated to remain in the wild. Photo by Bernard DUPONT from FRANCE, Wikimedia commons.